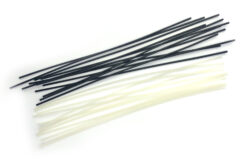 Good Price!
Recommended!
We are very happy to be able to present our own plastic tubes to your tube flies.
In our opinion, it is perfectly stiff, between medium and stiff, which gives you good stability enough without cracking as some other models can do.
1,8 mm (medium soft): 

2 different colors, Black & Clear.

  ~ 1,8 mm fits perfectly in 3,0 mm plastic tube. 
Sold in 20-pack.