NYHET 2021!
This package offer will deliver detailed technique structure on your casting from a video you send in.
When ordered, you will receive information of what YOU need to deliver to us, so we can deliver a thorough analyze with solutions for your casting. 
OBS !!!

You get the start package where we go extra deep into everything in relations to your casting skills and your physical conditions. And then you have 2 more online casting coaching with me (with the depth of start packages - more physical analyze), that you can use when you have fined your casting after the first online coaching, and then we can make it even better with those 2 extra online casting lessons.

The year 2021 will YOUR year !!
What we want from you is...
1. A casting video of you. 2. Information about you as a caster. (we will send you detailed information about what we need to deliver the best service possible)
What you will get from us is...
1. Detailed analyze of your casting through your own video.
2. 30 min video call with Tellis to go over everything. 3. If any physical issues, Elsa Antheia will help you to find suitable exercises so you will be able to do your best casts! 4. 30 min video call with Elsa to go over everything.
This package will also give you EXTRA 2 online meeting calls with Elsa Antheia, going over your physical capacity and other things that could help you become a stronger caster!
Further details about how this is set up can be founder here below!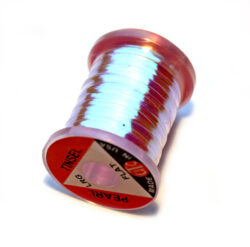 Härlig tinsel med hög lyster för både kroppar och som ribbing på lax och havsöringsflugor.
Storlekar:  Medium / Large.