1. What I will use to analyze your casting, is the Hudl app!
You will need to download the app (free for you) and upload your casting video there, to me. Then I will be able to analyze your casting, making it easy for you to understand the analyze with pictures like these (below)!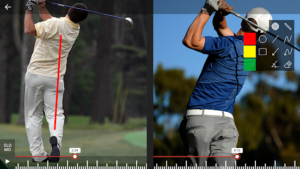 This is a great way to break down everything and you will receive deep and accurate analyze on your casting that you will benefit on for many years!
You will receive great information on how you can strengthen your casting techniques, step by step!
Here is a video, explaining further how this works and how I can help you, as your coach!
2. Our 30 min Online Meeting
Our online meetings go through Zoom unless something else is requested.
3. Elsa Antheia will help you with your physical issues
Elsa Antheia has a strong body analyze through her PT studies in Iceland a long with her massage and deep massage training. Through her many years of exercising and also from working as a PT she highly recommends you to take the step towards greater goals and happier body! Please do not hesitate to fill in the extra personal form to get some physical analyze, and receive specially chosen exercises just for you. Personal recommendations relating the results for further actions in a personal online meeting.
Any questions she takes through her email, bosslady@tellis-flugfiske.se.