The Green Highlander is a very famous pattern for salmon and it has been used for ages. Unfortunately, it is a very misunderstood fly. It is most often referred as a fly for the clear waters of Norway and of course, sunny bright weathers, which is of course is correct. BUT, it's just so much more than just a fly for sunny days or the rivers of Norway. If you look at the colors of the fly, imagine a sunny, bright day along any river. What colors would you see and find around you? You will see more or less all the colors of the Green highlander, even darker and murky waters. Take river Mörrum in Sweden for an example. Most people would shake their head if you put on a Green Highlander, but I can tell you that they are wrong. For example, one of my close friends (Björn) has caught more or less all of his salmon on Green Highlander. Not only in Mörrum but in several rivers around Scandinavia. He said to me many years ago, "Why should I change the fly? Because someone else thinks it's the wrong fly?". And he is 100% correct in his view. I remember when he caught his first June salmon in Mörrum, locals that I know could not believe that he caught that fish on a Green Highlander. That salmon was a perfect specimen, a fresh big salmon, around 11 kilos.
Regardless of what anyone says, the most important thing with choosing your fly, is your belief in the fly. But, looking out on a water like Mörrum on a sunny day and then taking that green, reddish fly out of my box, gives me a very good feeling and I can promise you that when you see that fly in the water, you might change your mind.
Material for 10 Green Highlander flies
HERE!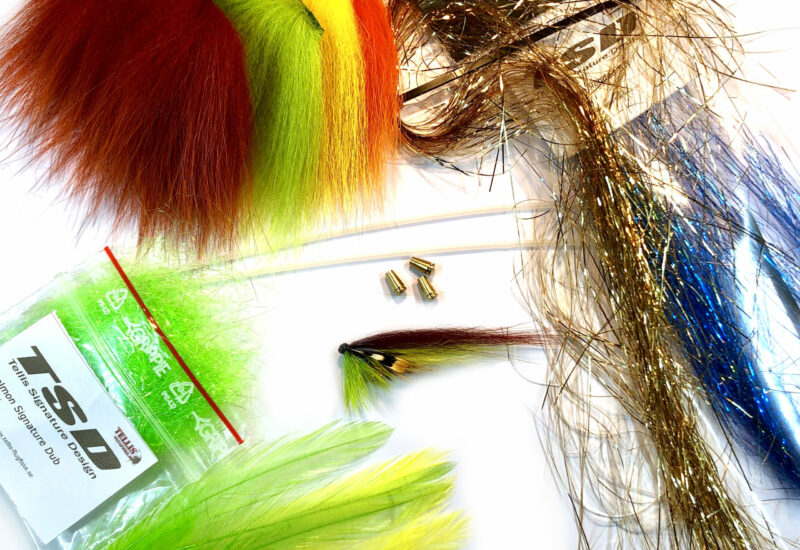 Tube: Clear 1,8mm + TSD Drop Tubes, S – Gold
Thread: White & Black
Dubbing: TSD Salmon Signatur Dub – Green
Wing 1: TSD Supreme Foxhair – Orange
Flash 1: TSD Tinsel Flash – Gold
Wing 2: TSD Supreme Foxhair – Yellow
Hackle 1: TSD Rooster Hackle – Yellow
Wing 3: TSD Supreme Foxhair – Bright Green
Flash 2: TSD SW Angel Hair – Blue
Hackle 2: TSD Rooster Hackle – Bright Green
Wing 4: TSD Supreme Foxhair – Dark Fiery Brown
Björns fantastic Mörrum Salmon caught on a Green Highlander