I think most salmon anglers has a couple of Sunrays in their fly box, or have at least heard of the pattern! I remember in the beginning of my salmon journey, I was really enjoying tying all those different patterns but when it came to the Sunray I just refused.. Stupid, yes I know! But for me at that time the Sunray was "to easy" and how could this fly be so great when it's THAT simple? Year passed by and after a while I could not longer ignore the power of the Sunray. Its mostly thought of as a evening fly or a fly to use in the darkness due to its length and big profile. But as many know it works just as good during daylight and for any high water or big fly conditions. I have had some of my best aktion with a Sunray, using it during daylight with heavy sinking lines. Fishing it with a sinking line can really do the trick as it just hover in the water.
The original Sunray Shadow was invented by no other than Raymond Brooks, he designed it for the conditions of the big and rapid rivers of Norway, his favorite Norwegian river was Laerdal that runs towards Sognefjord. In the original pattern, Brooks used squirrel, peacock hearl and black hair from Monkey. Over the years a lot of different materials has been used and the most frequently used in later days is white bucktail and black goat hair. You can also use polar bear, fox hair, or mix it around as well. When you are tying flies that is longer than 7cm it is important the you do combine stiffer hairs with soft hairs and that the total wing is mainly made with stiffer hair than a modern "Scandi tube". If you use hair that is to soft you might risk getting the hair tangled in the hook, due to the fact that it will collapse in stronger current. 
I have made them over the years in many different variations and colors. Mainly I do make it pretty "classic" with bucktail or polar bear as the first wing and then the perfect selected fox hair. I also use Goat from time to time, especially on flies larger than 10cm. Even though it is mainly thought of as a "large fly" you can make them in various sizes. The smallest I have made and fished with success is as small as 2-3cm in total wing length! But, in most cases I have Sunrays in 2-3 sizes, something around 5-6cm, 9-10cm and the larger ones between 12-14cm. In this  episode I will also show you one of my "pimped up" versions using US tube and a little bit more color.
Over the years the Sunray has given me several memorable catches, inside and outside of Scandinavia for both salmon and sea trout. Exciting evenings when large salmon brakes the surface as it charges after the big fly close to the surface, or aggressive takes in a normal swing during day light. But for me the best memory is from Argentina when I caught my largest sea running brown trout. We where more or less done day and darkness was hitting the river. I went for a last few casts and got that 12-13cm Sunray out in the river. As I started to retrieve the surface exploded as a 10 kilo trout literally wanted to kill my fly. This fish and evening will for ever be in printed in my mind.
Material for 10 Variations of Sunray Shadow flies HERE!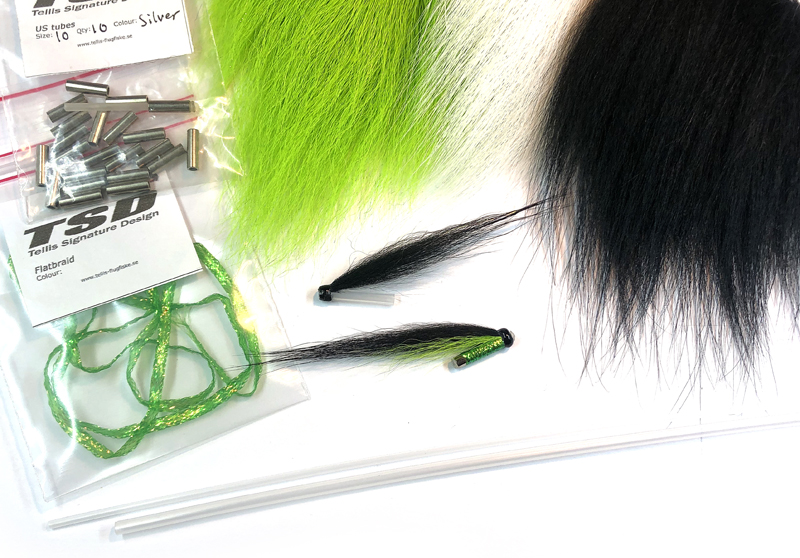 Personal Best Sea trout (10 kilos) caught with Sunray Shadow!