LIVE Fly Tying Fridays have now been done 6 times and there are 6 left!
Meaning that we are half way through and we are going to heat things up a little bit this time around!
We are adding 2 things to our LIVE Fly Tying Fridays!
1. Post your fly on the LIVE event video in a comment!
After the LIVE each Friday, those who post their flies tied that night (until midnight) have the opportunity to win ALL flies that will and have been tied on LIVE Fly Tying Fridays with Tellis Katsogiannos, me! That is 18 flies in total… not sure the worth of them but they will be specially tied for that winner that will be chosen after we have finished the last night!
(More details later)
The winner will be randomly picked!
2. Send me your flies! 
Those who are willing to send me flies for the last nights auction (29. februari) are more than welcome to do so and we (me and Elsa) are encouraging YOU to both contribute to the environment (see further details below) AND help someone catch a nice salmon! If you would like to donate, please take contact to bosslady@tellis-flugfiske.se 
We have received the first 3 flies, from Lars Nerstrand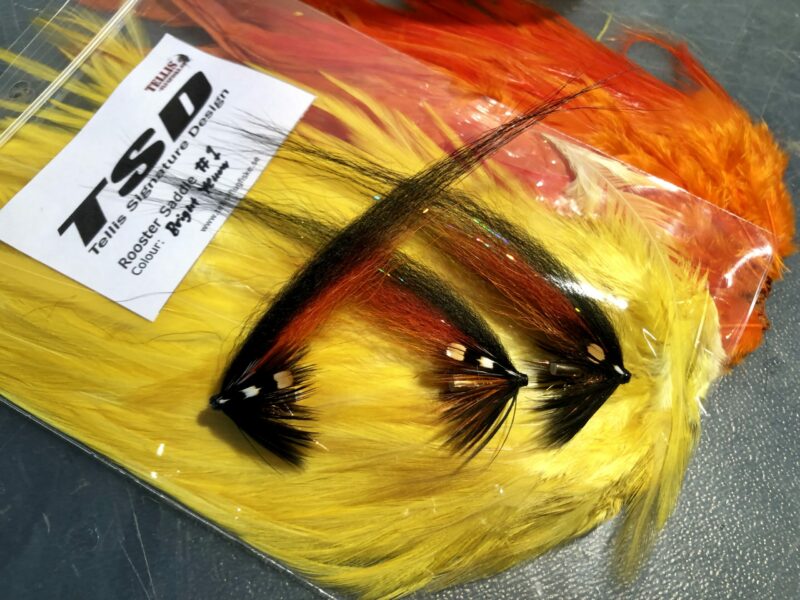 Elsa Antheia, the BossLady of Tellis Flugfiske will also contribute 3 salmon flies!
We are hoping for fun and great auction night, supporting great organization along with great YOUR great support!
All flies that are sent, we will sort and form some kind of packages for the final night auction… then everyone can bid on YOUR flies!
Contributing to Fiskevårdsnätverket Göteborg like we usually do each year in February, with Havsöringens dag.
As can be seen on Fiskevårdsnätverket Göteborg´s website, that yearly support matters greatly and we have together managed to collect around 50.000 SEK for the organisation the past few years. THAT IS A LOT OF MONEY!
If there is someone who wants to contribute to the auction in any way, to support the organisation, can contact me at info@tellis-flugfiske.se.
Since we don´t have the option to meet up, enjoy each others company, we might as well try to do some fun online fly tying with friends and family members.
As it has been published before, the next two Fridays are #7 Black & Orange and then #8 Sunray Shadow Variations.
The next and last 4 Fridays will be…
#9 Green Highlander
Asked by Hreinn Hjartarson from Iceland on YouTube.
#10 Opossum Zonker Variations
Asked by Daniel Lindgren
#11 Black & Green Helmet
Chosen by me!
#12 The Usual (Den Vanliga)
Asked by Elsa Antheia.
(More detailed in another blog later)